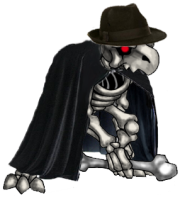 Status:
Sadly, I won't be editing as much on the wiki now. You probably might have already noticed. Also, the replying thingy is OK now. I'm grateful for that. Looking back on my status pertaining to that, I realized how immature and stupid I sounded. Sorry about that. In other news, I recently beat Ocarina of Time, and realized just how much of a gem it is. Now I really want to play Majora's Mask.
Real Name: Beecanoe (Dry Bones have odd names. That's why everyone just calls every one Dry Bones.
Age: 16
Alliance: Dry Bowser (in Bowser's army)
About Dry Bowser
Edit
Contrary to popular belief, the Dry Bowser in New Super Mario Bros. is a different Dry Bowser than the one in Mario Kart Wii and Mario and Sonic at the Olympic Winter Games. The one in New Super Mario Bros. was Bowser after his skin got burned off. This one is a reincarnation of Bowser from that form. He works alongside Bowser in terrorizing the Mushroom Kingdom.
Real-Life Info
Edit
Age: Already implied above
Location: Wisconsin (as specific as I get)
Gender: Male
Pets: Two cats, One gecko
Latest game: Pokemon LeafGreen Version (used off of Amazon.com)
Videoes of Awesomeness
What's that noise? That's my ass! Another Mario video of him angry and cussing. WE'RE NOT GOING TO NUKE THEM! F**K THE CHILDREN OTACON!