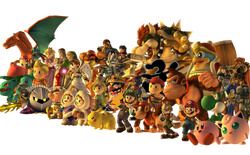 Super Smash Bros. Explosion
is the next installment to the awesome Super Smash Bros. series. Oh, and by the way, I heard about a new SSB on the 3DS coming out soon.(Just sayin).

There are several different modes and stuff to play in, and it is a little different to the other SUper Smash Bros. games made. The Regular, or Solo Mode is a 1 on 1 battle to the death. You may pick your character and use items and stuff.
There is also Free for All 4 battle mode, with four players against each other. The items can be used for more than one player, also.
The third battle version is a Battle Royale, which is a free for all 10 player battle against each other, using new Smash Sprite Stars to double power.
There is also team battle, with a 3 player team againsy another 3 player team. Except, the team players have to all be from the same gaming series. Example:(Mario, Peach, Luigi vs. Sonic, Blaze, Silver).
There is one of the coolest battle modes, the Explosion Battle. Similar to the team battle, because it has a 12 team against a 12 team, making 24 players battling to the death all at once.
MORE MODES COMING SOON.
Characters
Mario
Mario
Luigi
Peach
Bowser
Yoshi
Bowser Jr.
Fawful
Midbus
Daisy
Petey Piranha
The Legend of Zelda
Link
Zelda
Nightmare
Ganon
Ganondorf
Kirby
Kirby
Meta Knight
King Dedede
Waddle Dee
Waddle Doo
King Do
Nova
Star Fox
Fox McCloud
Falco Lombardi
Krystal
Slippy
Wolf O'donnel
Leon
Sonic
Sonic the Hedgehog
Shadow the Hedgehog
Silver the Hedgehog
Blaze the Cat
Dr. Eggman
Tails
Knuckles the Echinda
Earthbound
Epic Saga
Genius Guy
Beecanoe
E.t.G
Ouro/Jared
Galactic Petey
Lord Apocalypse
Al and Zach
Al
Zach
Leya
Smokey
Lily
Phoenix
Kraken
Go! Go! Kokopolo
Metriod
Mutant Mudds
Max
Mudd
Mini Mudd
Tall Mudd
Mortal Kombat
Sub- Zero
Scorpion
Reptile
Raiden
Johnny Cage
Liu Kang
Sonya Blade
Kano
Shang Tsung
Ermac
Smoke
Cyrax
Sektor
Kitana
Mileena
Jade
Nightwolf
Stryker
Kabal
Pokemon
Pikachu
Charizard
Mewtwo
Meganium
Ho Oh
Lugia
Blaziken
Swampert
Rayquaza
Groundon
Kyogre
Dialga
Torterra
Palkia
Arceus
Zekrom
Emboar
Samurrot
Kyurem
Seviper
Zebstriker
F-Zero
Captain Falcon
Black Shadow
Samurai Goroh
Kid Icarus
Pit
Lady Palutena
Medusa
Viridi
Twinbelos
Pac Man
Pac Man
Blue Ghost
Red Ghost
Pink Ghost
Jacky and Walden
Metal Gear Solid
Solid Snake
Liquid Snake
Solidus Snake
Naked Snake
Quick Shoot
Warriors
Hollyleaf
Firestar
Graystripe
Brambleclaw
Jayfeather
Lionblaze
Dovewing
Tigerstar
Sandstorm
Pikimin
Red Pikimin
Blue Pikimin
White Pikimin
Yellow Pikimin
Captain Olimar
Star Wars
Anakin Skywalker
Yoda
Obi Wan Kenobi
Luke Skywalker
Darth Vader
Darth Sidius
Spyro
Spyro
Cynder
Eruptor
Chop Chop
Trigger Happy
War Strike
Find Mii
Ultimate Ghost
Blood Ghost
Dark Lord
Mii
Fire Element
Game and Watch
Mega Man
Mega Man X
Mega Man Zero
Bass
Dr. Wily
Zombie Slayer Diox
Crush 3D
Ice Climbers
Stages
Peaches Castle
Hyrule Field
Empire City
Pokemon League
Cat Town
Dream Land
Lylat
V-Land
Mario Circuit
Hyrule Castle
Missing Step
Harminious Forest
Death Star
ThunderClan Camp
Cloud Drop
FIrst Crush
Tresafuland Castle
Super Smash Bros. Stage
Final Destination
Ad blocker interference detected!
Wikia is a free-to-use site that makes money from advertising. We have a modified experience for viewers using ad blockers

Wikia is not accessible if you've made further modifications. Remove the custom ad blocker rule(s) and the page will load as expected.