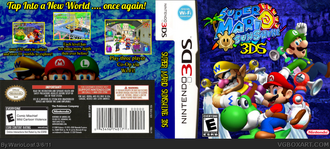 Super Mario Sunshine 3DS is the sequel to Super Mario 64 DS and the remake of Super Mario Sunshine. Like its predecessor, SMS3DS has the same levels, plus a fresh batch of them. To make things even better, Sunshine 3DS features new characters, even more than that of 64 DS. I really don't know much about Super Mario Sunshine, as I only rented it once, but anyone can help with the gameplay and levels. Just let me do the characters.
Levels
Gameplay
Main Characters
Mario
Yoshi
Toad
Princess Peach
Bowser
Bowser Jr.
Piantas
Shadow Mario (Bowser Jr.)
Ad blocker interference detected!
Wikia is a free-to-use site that makes money from advertising. We have a modified experience for viewers using ad blockers

Wikia is not accessible if you've made further modifications. Remove the custom ad blocker rule(s) and the page will load as expected.