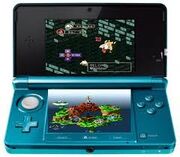 Description
We have all at least heard about this infamous role playing game (RPG) featuring Mario and a few new friends. Now, get ready to be hit in the face with a nostalgia bat! Super Mario RPG: Legend of the Seven Stars 3D will give you the chance to relive the experience once played on the Super Nintendo.
New features
Exclusively for the 3DS, you will now be able to see the map on the touch screen while playing and moving about through the world of Super Mario RPG. Also, battle commands will be executed using the touch screen.
Ad blocker interference detected!
Wikia is a free-to-use site that makes money from advertising. We have a modified experience for viewers using ad blockers

Wikia is not accessible if you've made further modifications. Remove the custom ad blocker rule(s) and the page will load as expected.