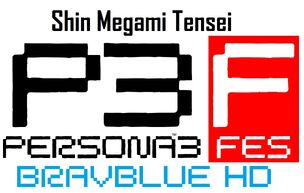 Shin Megami Tensei
Persona 3 Bravblue
is the HD Remaster of the New Element. Upcoming Re-realesed for Scenario of Journey and Answer. To be Realesed in Quality High Definition, on PS3 & PSVita. in additional Game from Previous Persona 3 Portable will added answer once again.
Realesed Date  
Japan : TBA
North America : TBA
Asia : TBA
Europe : TBA
Overall Change
New Opening from Yuki Wakamura

Video output supported in 480p, 720p, 1080i and 1080p.

Audio output supported in Dolby Digital 5.1 sound and DTS Digital Surround 5.1.
Trophy support.
Unlockable PlayStation 3 theme for each title. (only for PS3)
Ratio Widescreen 16:9
Updated character models.
Remastered background music for Persona 3 , FES and Portable and Track from P4.
Loading Times will be Great improved 
Animated Cutscene will be Upgrade for Two Scenario
Audio Voice Has been added  for Choose the English Audio and Japanese Audio.
Dialogue Box has been Replaced with Dialogue Box P4G With Blue (For Male Route) , Pink (For Female Route) and Blue Sky (For Aigis in Scenario Answer)
Animated Cutscene has been added again and For Female Route Has been added
Visual Novel No Longer Certain
On the New Game+ You can coztumize Difficult Level for inviduals elements in Config Menu Pre-set level of Difficult are:

Safety (Very Easy in NA)
Beginner
Normal
Expert
Maniac (Very Hard in NA)

Plot Element System will be Improved like P4G and P3P
Player Can Walk again for Two Scenario
Journey 
Remastered in High Definition 
Player Can Default Name the male and female Name
The Gameplay is approximately 100 Hour Long
new social link the arcana Jester for Elizabeth (Male Route) & Theodore (Female Route) Igor assitance Which Quest and Few Event (Example : show me the Geokaukkan High School) By Elizabeth Or Theodore Has been Move with Social Link Event. And Few New Event for Rank 6-9. exclusive after you maxed out Rank Jester Social Link You Regard To Battle with Elizabeth Or Theodore as Ultimate Opponent.
New Area Inaba will be Access  and only access in school Trip and from 1/1-2010 - 30/1-2010
New More Event such school Trip , Haloween and Chrismass eve.
New More Animated Cutscene 
New Weapon , Armor , Costume and Items
When Party Member Level UP with Trigerring Voice
New event from previous CD Drama has been added
in Opening Sound Like Philemon As Cameo Voice
New Scene Function For thoese who Played in PS2 that just want explore New features
New classic for Party Member

New the Ultimate Skill Has been added For Party Member ( when gaining the Ultimate Persona)
Social Link Party Member skill From Persona 4
New Battle Qoutes for Party Member
New Skill For Party Member

New Classic Persona Such As:

New Persona and Skill
New Persona for Hunger , Fool ,Jugdement and Aeon
The abilities To Choose which skill Can Be inherited  By the Persona The Player Fusing (However inharitance Restriction Still Applies)

Vision Quest Still Remain And New Strong Boss and challanger.
New Dungeoun and New Boss Boss In Inaba
New Cameo from Persona 4

Adachi
Nanako
Fox
Naoto 
Yosuke (only You Can Desire NPC Quest)
Rise (Only See in event before SEES arrive )

Some Battle Have most Change

Calvary Attack From P4G
Shuffle Time Has been Resived
Rebalanced Character
Some Shadow / Enemies Status Has been Change their attribute
Tag Team attack

New Skill To Changed Persona skill
Answer
Remaster In High Definition
The Gameplay Approximately in 45 Hours Long
Accessible save Data From Scenario Journey Transfer into Scenario Answer You will be able To Load Something From Your Save Clear Data 
New Event , New Door Abyss Of times , and New Boss
New Character Cameos From P2/P4
Aegis Door will be embark voice The philemon After That
Pallas anthena will be added in Persona Compendium as Wild Card if you fusing, Orpheus (Male) with Orpheus (Female)
New Animated Cutscene  & Dialogue
new epilogue in 31/3 - 2012
DLC Prize Code
Ex Dungeoun Exclusive Dungeoun And More Such as

New Boss From Previous Shin Megami Tensei
New Super Boss
New Area
New Weapon
New Enemies

New Victory Pose 
New Cycle Protagonist Voice without Dialogue Choice Box Called "Sound Voice"
another Event Has been added
New Costume For Party Member
Battle Qoutes for Protagonist and Female Protagonist
Ad blocker interference detected!
Wikia is a free-to-use site that makes money from advertising. We have a modified experience for viewers using ad blockers

Wikia is not accessible if you've made further modifications. Remove the custom ad blocker rule(s) and the page will load as expected.