Marvel vs. Capcom 5: The Final Battle
[[File:|250px]]
Developer(s)
Marvel, Capcom
Publisher(s)
Marvel
Platform(s)
PlayStation 3, Xbox 360, Wii
Release date
December 7, 2010NA

December 8, 2010EU December 9, 2010JP December 10, 2010AUS

Genre

Fighting game
Rating(s)
ESRB: E (Everyone)


PEGI: 7
CERO: A
OFLC: G

Mode(s)
1-on-1, 2-on-2 fighting tag-team, casual 3-on-3 fighting
Media
Blu-ray Disc, DVD
Input
Joystick, Kinect/Wii Remote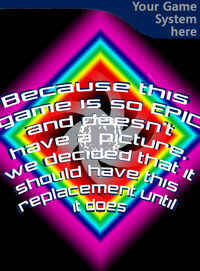 Marvel vs. Capcom 5: The Final Battle
is a video game. My conclusion to the Vs. series. Features every element from other games and a huge roster of characters that you seem to really enjoy. All in all, the idea should be for the Nintendo Wii, Playstation 3, and Xbox 360 consoles. I'm also thinking of a PC port, if so! This game is entirely different because you can play in a ratio setting (examples include 1-on-1 and 2-on-2 fighting tag-team mechanics, as well as the more casual 3-on-3 fighting). There are also battle settings known as "Grooves", which carry from Capcom vs SNK 2 itself, but with the M, A, R, C, A, P, Ex1, Ex2, and O Gauges. 60 Hz sprites are used, fused with 3D visuality. The music is done by Koichi Sugiyama, and illustrations and character portraits by Kinu Nishimura.
Character roster
Marvel characters
Wolverine
Hulk
Gambit
Spider-Man
Venom
War Machine
Captain America
Thor
Shuma-Gorath
Mephisto
Blackheart
Ghost Rider
Onslaught
Apocalypse
Psylocke
Colossus
Cyclops
Iron Man
Magneto
Spiral
Rogue
Storm
Juggernaut
Iceman
Doctor Doom
Omega Red
Sabretooth
Jubilee
Sentinel
Cable
Beast
Archangel
Birdie
Forge
Deadpool
Mojo
Marrow
Silver Samurai
X-23
Blade
Man-Thing
Sandman
Doctor Octopus
Mysterio
Rhino
Super-Skrull
The Thing
Human Torch
Mr. Fantastic
Invisible Woman
Brigade
Johnny Ohm
Elektra
The Hand
Kingpin
Dormammu
Doctor Strange
M.O.D.O.K.
U.S. Agent
Death
Jean Grey
Nightcrawler
Thanos
Magma
Abomination
Quicksilver
Spyke
Azazel
Galactus
Silver Surfer
Black Panther
Black Cat
Nick Fury
Iron Fist
Green Arrow
Deathstroke
Batman
Superman
Nightwing
Robin
The Joker
Luke Cage
Ms. Marvel
Spider-Woman
Hawkeye
Xorn
Black Widow
Ronin
Namor
The Vision
Shocker
Scorpion
Ultimo
Ultron
Baron Mondo
Deathbird
Emma Frost
Lizard
Green Goblin
Penance
Songbird
Carnage
Sentry
Yellow Jacket
Lady Deathstrike
Bishop
Firestar
Hercules
Havok
Grim Reaper
Solara
The Wink
Hazmat
Fault Zone
Paragon
Niles Van Roekel
She-Hulk
Capcom characters
Ryu
Ken
Megaman Classic
Megaman Volnutt
X
Charlie
Guile
Chun Li
Strider Hiryu
Jin Saotome
Captain Commando
Morrigan Aensland
Dhalsim
M. Bison
Balrog
Vega
Roll Classic
Roll Caskett
Shadow Lady
Akuma
Sakura Kasugano
Dan Hibiki
Zangief
Sagat
Dante
Nero
Vergil
Evil Ryu
Violent Ken
Cammy
Juli
Juni
Tron Bonne
Servbot
Ruby Heart
Son-Son
Amingo
Demitri Maximov
Trish
Lady
Zero
Sigma
Frank West
Alex
Makoto
Ibuki
Gill
Sean Matsuda
Jill Valentine
Chris Redfield
Lilith Aensland
Felicia
Anakaris
Sunburned Sakura
Shin Akuma
Guy
Ginzu the Ninja
Baby Head
Mack the Knife
Saki Omokane
Devilotte
Xavier
Dave
Batsu Ichimonji
Hinata Wakaba
Kyosuke Kagami
Blanka
E. Honda
Maki Genryusai
Eagle
Fei Long
Yang
Yun
Dudley
Urien
Twelve
Necro
Jedah Dohma
Ingrid
Pyron
Hauzer
Leon
Tessa
Anita
B.B. Hood
Cody
Jessica
Arthur
Nathan "Rad" Spencer
Amaterasu
Viewtiful Joe
Kaijin no Soki
Red Arremer
Astaroth
Eddie
Beat
Issun
Albert Wesker
Nemesis
Tyrant
Licker
Hayato Kanzaki
Black Hayato
Rose
Mech-Zangief
Ton Pooh
Sexy Silvia
Lou
Hideo Shimazu
Mike Haggar
Michelle Heart
Pure & Fur
PTX-40A
Druk
Hsien-Ko
Karin Kanzuki
Kyoko Minazuki
Hayato Nekketsu
Akira Kazama
Strider Hien
Sylphie
Lord Raptor
Axl
Evil Ryu
Oni
Hakan 
Guest Characters 
Fireside Isabella 
Princess Anna 
Ad blocker interference detected!
Wikia is a free-to-use site that makes money from advertising. We have a modified experience for viewers using ad blockers

Wikia is not accessible if you've made further modifications. Remove the custom ad blocker rule(s) and the page will load as expected.