Marvel vs DC: Clash of Heroes is a crossover fighting game for the Wii U, Playstation 4, Playstation Vita, and Xbox 360. It is crossover between Marvel comics and DC comics, which seem to be be direct rivals. This game was developed by Superbot Entertainment and released on March 18, 2013.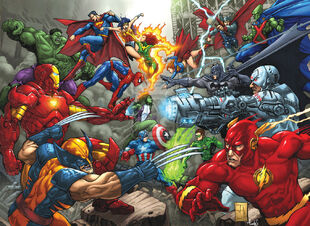 Character Roster
Marvel Characters
Spider-man
Wolverine
Captain America
Iron Man
Thor
Hulk
Ms. Marvel
Giant-Man
Daredevil
Mr. Fantastic
Invisible Woman
Human Torch
Thing
The Rhino
Jean Grey
Storm
QuickSilver
Cyclops
Colossus
Deadpool
Hawkeye
Black Panther
Beast
Nick Fury
War Machine
Luke Cage
The Lizard
Green Goblin
She-Hulk
Blob
Songbird
Penance
Star Lord
Rocket Raccoon
Dr. Strange
Ghost Rider
Silver Surfer
Elektra
Dr. Doom
Venom
Magneto
Juggernaut
Bullseye
Loki
Carnage
Ultron
Ant-Man
Red Hulk
Toad
Hawkeye
Dr Octopus

DC Characters
Superman
Batman
Wonder Woman
Flash
Green Lantern
Cyborg
Hawkman
Supergirl
Aquaman
Martian Manhunter
Captain Marvel (Shazam)
Robin
Nightwing
Green Arrow
Swamp Thing
Raven
Supergirl
Powergirl
Starfire
Beast Boy
Black Lightning
Black Canary
Blue Beetle
Arsenal
Zatanna
Skitter
Captain Atom
Solomon Grundy
Ambush Bug
Huntress
Red Tornado
Firestorm
Ravager
Lex Luthor
Joker
Harley Quinn
Cheetah
Deathstroke
Bane
Killer Croc
Mad Hatter
Penguin
Clayface
Deadshot
Poison Ivy
Mr Freeze
Two-Face
The Scarecrow
Lobo
Mr. Freeze
Catwoman
Doomsday
DLC
Shuma-Gorath
Blackheart
Darkseid
Jinx
Stages
SHIELD Helicarrier
Watchtower 
Daily Bugle
Metropolis 
Sanctum Sanctorum
Arkham Asylum 
Baxter Building 
Hall of Justice 
NYC streets 
Gotham City 
Asgard
Amazonia 
Mephiso's Realm
Batcave 
Niffelheim 
Fortress of Solitude 
Modes
Story
Arcade
Challenge

Mission
Combo
Boss Battles
Minigames

Wall Smasher
Combo Lander
Home Run Contest
Enemy Swarm

 

Training
Extras
Store
Credits
Marvel, Dc, and all related things are property of their respective owners
Ad blocker interference detected!
Wikia is a free-to-use site that makes money from advertising. We have a modified experience for viewers using ad blockers

Wikia is not accessible if you've made further modifications. Remove the custom ad blocker rule(s) and the page will load as expected.