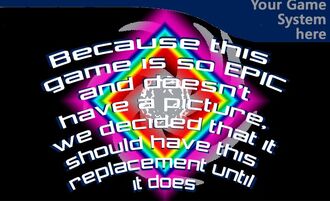 Klonoa X Mega Man is a crossover fighting game for PS3,Xbox 360,Nintendo 3DS,Wii,Wii U, and in Arcades. It's a crossover of the Klonoa series and the Mega Man Series.
Introduction
This is the first of the X (Kross) series that focuses on universal crossovers and is crossover suggestionable! To know more about the series, LM me or talk with the administers.
Story (About Klonoa X Mega Man)
When Garlen was figuring out how to spread nightmares to the world, something has gone wrong causing a storm to create such an impact that it creates a portal between Klonoa's and X's universes, Garlen then makes up a new plan. Klonoa and X quickly got along and worked together to stop Garlen.
Gameplay
The game uses the EXP system used from Frontier Adventure: Arcade Edition. Each side has a different gauge, the Klonoa side has the Charge-type gauge (with a Klonoa ear) where you have to charge the gauge to the max but will start charging down when it reaches it's peak, you need to perform a Kross Move before it ends. The Mega Man side has a gauge like the ones from the Mega Man series, but can charge up to 3 stocks. The arcade version of the game doesn't have cutscenes but still EXP-specific. Some modes are EXP-specific.
Features (Modes Selection)
Arcade Mode
Versus Mode

1P vs. 2P
1P vs. COM
COM Battle ("Watch and Learn" in Japanese version)

Trial Mode

Time Attack
EXP Attack
Survival Mode
Mission Mode

Tournament Mode

Tournament Entry
Tournament Option

Shop
Training
Online Battle

Ranked Battle
Team Battle
Tournament Battle

Player Bio

Player Info
Char. Info
Replay Mode

Extras Mode

Art Gallery
Char. Bio
Char. Ending
Hear Music
Credits
Trailers
Cheat Mode

Option Mode

Game Option
Sound Config
Screen Config
Button Config
Install
Characters
Klonoa series
Klonoa
Chipple
Huepow
Guntz
Pango
Lolo
Popka
Pamela
Karal
Ghadius
Joka/Joker
Bagoo
Leorina
High Priestress
King of Sorrow/Kanashimi
Cursed Pamela
Poison Janga/Poison Claw Janga (P. Janga)
Nahatomb
Garlen (Final Boss)
Mega Man universe
X/Rockman X
Zero
Axl
Sigma
Classic Mega Man/Rockman
Roll
Bass/Forte
Proto Man/Blues
Dr. Wily
Vile/VAVA
Dr. Weil/Dr. Vile
Vent
Aile
Dynamo
Gate
Zero (Mega Man Zero incarnation): Downloadable skin for Zero
Magma Dragoon
Storm Eagle
Chill Penguin
Armored Armadillo
Mega Man Volnutt/Rockman Trigger
Roll Caskett
Tron Bonne
Mega Man Juno/Rockman Juno
Red
DLC
Systems
Arcade
PlayStation 3
Wii U
Xbox 360
Nintendo 3DS
PlayStation Vita
GigaCom
Gamecube 2
Media
Manga: Yes
Comic: Yes
Anime: Possibly