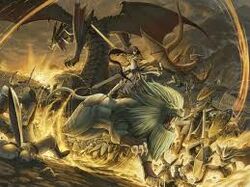 Immortal Arena
is a game made by Nintendo and Alphadream. It features heavy intensity style multiplayer battling from a number of characters to choose from.
Gameplay
The gameplay might be similar to the multiplayer from KI:Uprising. There are six modes: Free-for all, Team Mode, Race, Capture the Flag, Tournament, and Colosseum Battle. Your player would have super powers that you can use to kick ass.
Free-for-all
Free for all mode is a type using 12 players, all battling against each other. If there's not enough players, the spots would be filled with CPUs. Each player would get to choose there own weapon and character.
Team
Each team would have a total of six players. In this mode, the player does not choose there character, but plays as a warrior. The game should have a time limit, depending on the leaders choice. Each team has team leaders, then 2 warriors, then 3 spawns.
Race
A race is also pretty violent, although it doesn't sound like it. Each character has a vehicle, and still uses powers.
Ad blocker interference detected!
Wikia is a free-to-use site that makes money from advertising. We have a modified experience for viewers using ad blockers

Wikia is not accessible if you've made further modifications. Remove the custom ad blocker rule(s) and the page will load as expected.