Banjo-Kazooie: Grunty Land is owned by Wazzupguys!
Please do not edit this page without the consent of Wazzupguys.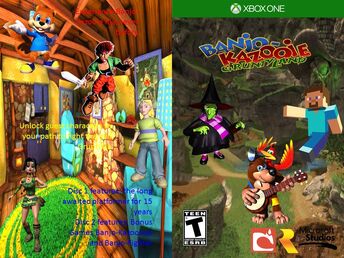 Story/Plot
Somehow, Gruntilda regained her original body. after that she plotted to have her revenge on Banjo and Kazooie. however L.O.G. appeared before her and warned her that if she will try this time then she will be gone for eternity. so the two reluctantly made a deal that things will be settle on the new Grunty Land. later L.O.G. messaged Banjo and Conker to rescue the ones(Timber, Pipsy, Bumper, Tip Tup, Cooper, Kameo, Edison and Steve) who were imprisoned on Grunty Island.
Gameplay
there are 11 chapters and each chapter consists of 5 levels, there are 10 playable charcters(2 available by deafult-Banjo and Conker and 8 unlockable-Cooper, Kameo, Timber, Bumper, Pipsy, Piptup, Edison and Steve) the levels are devided to 3 gameplay sections: 3d-collectathon(like banjo-kazooie), 2d-collectathon(like donkey kong country), and nextgen-collectathon(like banjo-kazooie: nuts & bolts).
Levels
1.Banjo-Threeie
Spiral Mountain()
?()
?()
?()
?()
2.Conker's Other Bad Fur Day
​3.Banjo-Countrie
​4.Grabbed by the Grunties
​5.
​6.
​7.
​8.
​9.
​10.
​11.
?()
?()
?()
Last Stand in the Sky(Boss:Gruntilda)
Foutain of Forgotten Creatures(Boss:The Great Mighty Poo)
Ad blocker interference detected!
Wikia is a free-to-use site that makes money from advertising. We have a modified experience for viewers using ad blockers

Wikia is not accessible if you've made further modifications. Remove the custom ad blocker rule(s) and the page will load as expected.